Harmony Gardens Ericaceous Compost Wins at Four Oaks
Southern Trident are delighted to announce that our Harmony Gardens Ericaceous Compost has been crowned the winner of the Four Oaks 2022 Award for Best Retail Product. Our peat-free formula has been in the works for some time, and after a lot of trial and error, we have created a truly award-winning compost.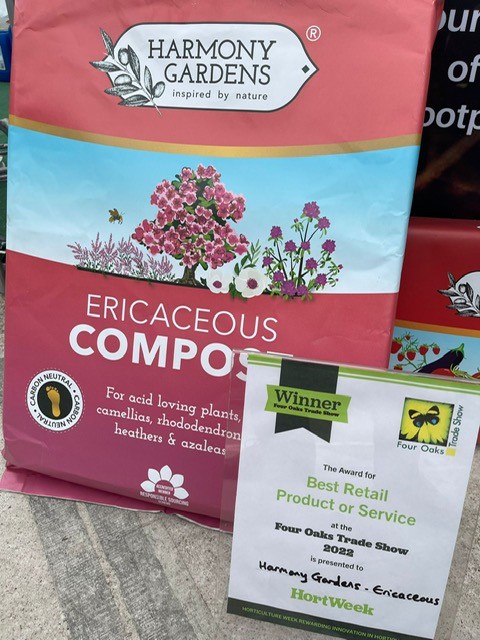 Our Harmony Gardens Ericaceous Compost is a unique blend of low-pH organic and recycled materials that have reached the pH levels required by most ericaceous plants. Notoriously difficult to achieve without use of peat, our blend has bucked the trend and has provided a solution that uses no peat or harsh chemicals, only 100% natural ingredients.
We are very proud of our achievement and are delighted that our efforts have been recognised with our latest ericaceous growing media formula.
The blend of organic materials are a mix of coconut coir and naturally low-pH recycled pine bark. No virgin wood is used in our products, ensuring no additional trees are cut down for our products. Each bag of Ericaceous Compost is manufactured with a recycled plastic materials content of at least 30% too, the current maximum we can create for a sturdy product. We are striving to increase this to a full 100% once technology allows in future.
As is standard across the Harmony Gardens growing media range, our Ericaceous Compost is entirely carbon neutral. As a company, Southern Trident measures the carbon produced in the manufacturing process and offsets this, ensuring that there is no excess carbon produced in the manufacturing and delivery to our warehouse of our products.
This is part of our unending commitment to reducing our environmental impact and outlines our efforts to continue to pave the way for the industry to follow us in becoming an ever more green, environmentally friendly industry. Reducing our reliance on peat is just the beginning.
We would like to thank the judging panel for their consideration and award of the win to our product. A huge congratulations is extended from the entire team to our fellow award winners at a truly fantastic show. Southern Trident will be looking forward to another wonderful show next year where we shall meet you all again to discuss even more innovative new releases due on the horizon.
If you would like more information or to enquire about samples of our Harmony Gardens range, please get in touch with us at sales@southerntrident.com or call us on 0207 1756 786.
Find your local supplier via our Store Finder or get in touch for trade queries.